How Can I Find the Best Varicose Vein Doctor In or Around New Jersey?

How can I find the best varicose vein doctor in or around New Jersey?
Vein Treatment Clinic has some of the best board-certified varicose vein doctors in and around New Jersey. Our exceptionally skilled vein doctors specialize in the latest minimally invasive vein treatments for spider veins and varicose veins. They also maintain flawless track records by minimizing the risk of complications of vein disease recurrence. You can find our vein doctors in Vein Treatment Clinic's offices in Paramus and Clifton. Our Paramus vein center is just off the Garden State Parkway near the Garden State Plaza. And our Clifton vein center is just past the Ford dealership on route 46-E. If you'd like a consultation, please schedule an appointment online.
You can also locate and find a reputable vein doctor for yourself, wherever you might be. The following are the qualities to consider when looking for vein doctors:
5-star ratings and reviews from all patients as evidence of their perfect track records.

State-of-the-art vein center outfitted with the latest vein treatment technologies and equipment.

Board certification to provide an objective guarantee of their skills and experience.

Residency and fellowship training from reputable medical institutions.

Specialized training in the latest minimally invasive vein treatments, such as

radiofrequency ablation

and sclerotherapy.

Diagnosis and investigation of the root cause of vein problems before curating a treatment plan.

Free insurance verification for all new patients.

Acceptance of all major insurance plans, including Medicare.
What kind of doctor removes varicose veins?
Any doctor may treat varicose veins if they have specialized training in vein treatments. In fact, aestheticians in medical spas also provide treatments to remove varicose veins and spider veins. However, you should only look for reputable vein doctors (phlebologists) specializing in vascular imaging tests and the latest minimally invasive vein treatments. Inexperienced doctors and those who don't specialize in venous medicine often treat the visible symptoms without addressing the root cause of varicose veins. As such, you must consult phlebologists (vein doctors) if you have varicose veins, spider veins, or other signs of vein disease.
Is walking good for varicose veins?
Yes, walking is good for varicose veins and your general vascular health. Walking frequently encourages blood circulation in your legs, allowing some of the accumulated blood to flow back towards the heart. Engaging in exercises that work your calf muscles, such as running, yoga, swimming, etc., is even better. However, neither walking nor regular exercise can treat varicose veins — at best, they may temporarily alleviate some discomfort. The only way to achieve complete relief from varicose veins is to consult vein doctors providing minimally invasive vein treatments.
Do varicose veins get worse with age?
Age is certainly one of the primary risk factors for varicose veins. As you grow older, the general wear-and-tear of your veins may weaken the vein valves, leading to a higher risk of venous insufficiency, a medical condition wherein blood flows backward to accumulate in your leg veins. As such, you have a higher risk of getting varicose veins as you grow older. However, if you already have varicose veins, you must consult a vein doctor immediately because varicose veins worsen with time, regardless of your age. As more time passes, more blood accumulates in the varicose veins, leading to a higher risk of bleeding, skin diseases, leg ulcers, and other complications.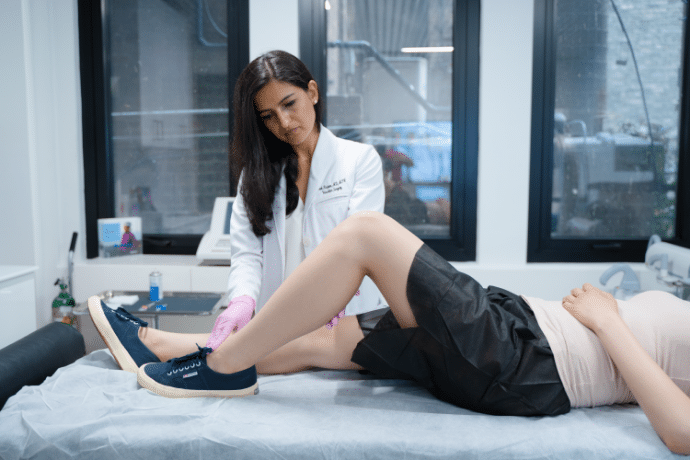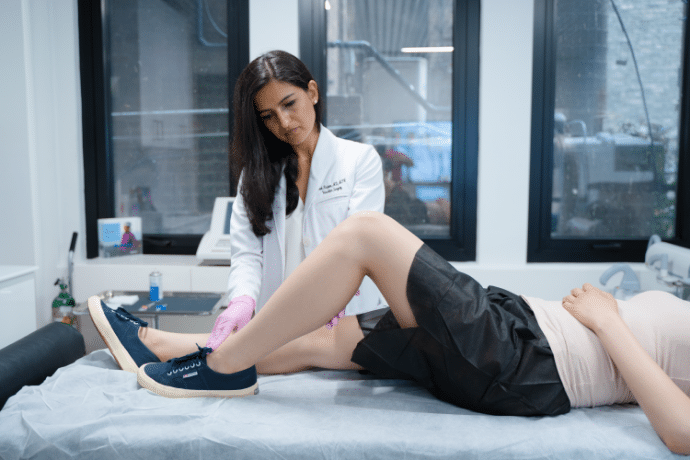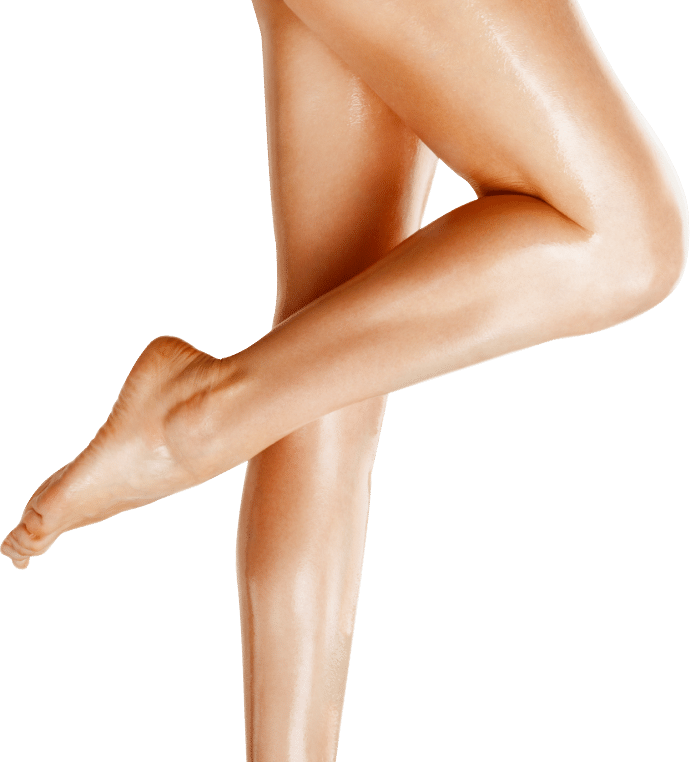 BOOK AN APPOINTMENT
Do you have any symptoms? Consult now with one of the Best Vein Specialist in New Jersey
Your information is encrypted and secure. By registering you confirm that you accept Terms and Conditions and Privacy Policy
How can I get rid of varicose veins without surgery?
If you have varicose veins, you don't need to worry about surgical intervention. In the past, the only way to treat varicose veins was through surgeries that involved a high risk of complications and downtime. However, modern minimally invasive vein treatments only involve small incisions or injections with a negligible risk of complications and no downtime. In fact, you must avoid vein doctors that recommend vascular surgeries for your varicose veins.
What's the best procedure for varicose veins?
Radiofrequency ablation is widely considered one of the best minimally invasive treatments for vein disease, i.e., the root cause of varicose veins. The vein doctor administers local anesthesia and makes a small incision on the skin's surface to insert a catheter into the diseased saphenous vein. Once the catheter is lodged in place, the vein doctor activates it to deliver thermal energy into the vein, making its walls shrink and shut down. The accumulated blood reroutes to healthier leg veins to restore smooth blood circulation.
Next, the vein doctor uses a procedure called ambulatory phlebectomy to remove the superficial varicose veins from the skin's surface. However, this is just one amongst many possible treatment options. Your vein doctors will identify the ideal vein treatments based on your specific needs and concerns.
What does varicose vein treatment cost?
The cost of varicose vein treatment depends on numerous factors, including the type of treatment option, whether the treatment is combined with a cosmetic treatment for the spider veins, the anesthesia usage, etc. However, the procedure may cost several thousands of dollars. You must contact your vein clinic to discuss the cost of your specific vein treatment.
Does insurance cover varicose vein treatment?
Insurance coverage varicose vein treatment if it's deemed medically necessary, i.e., if you have underlying chronic venous insufficiency. You should look for vein centers that provide free insurance verification to let you know whether you can get insurance coverage. The best vein clinics also provide a detailed cost breakdown with or without insurance at the end of your appointment.
FEATURED POSTS BY VEIN DOCTORS
NJ Vein Doctors

Meet our team of New Jersey Vein Treatment Specialists
Vein Treatments are covered by most major medical insurances, including Medicare. Call us today to verify your insurance for FREE >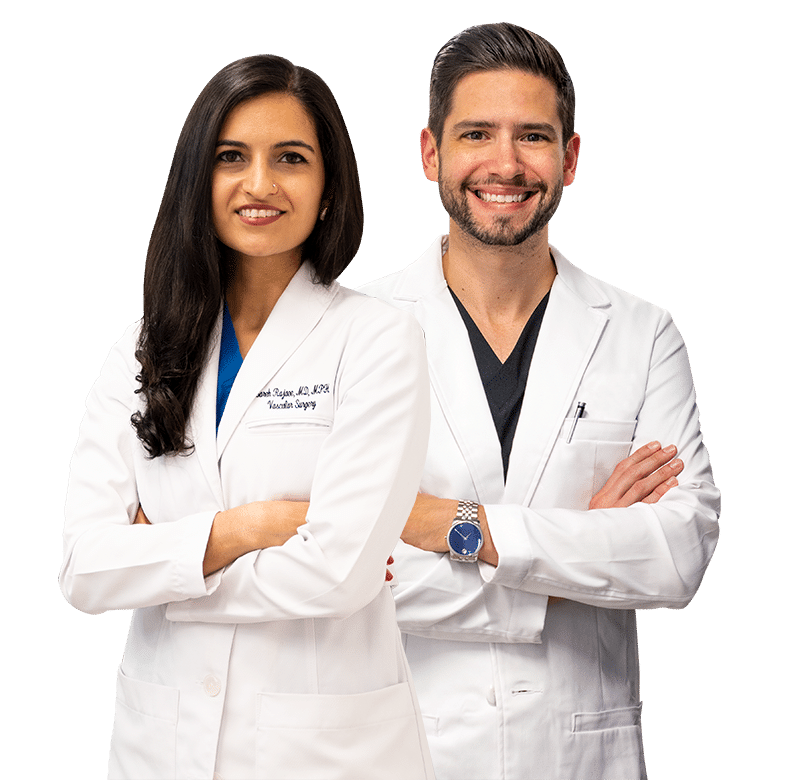 Meet our Team of Top Vein Specialists in New Jersey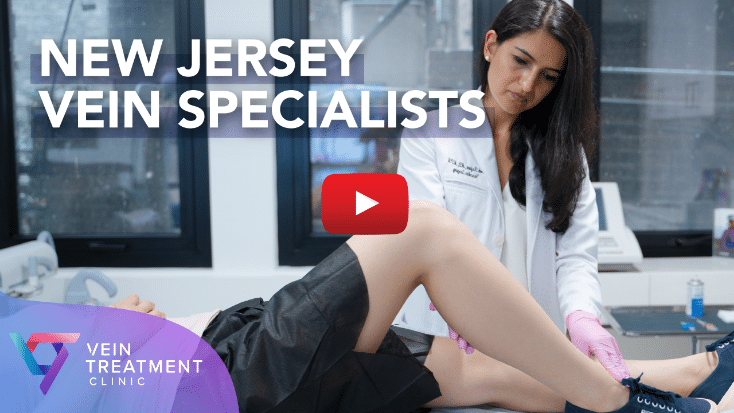 Slide One