What's the Best Vein Clinic Near Me Hackensack?

Vein Treatment Clinic: The Best Vein Clinic Near Me Hackensack, NJ
​Vein Treatment Clinic is widely considered the "best vein clinic near me Hackensack, NJ." But you don't have to take our word for it; we're merely paraphrasing our amazing patients, all of whom have given us 5-star ratings and reviews! According to one patient, "Dr. Kobrinski and staff universally offered a very friendly atmosphere, professionalism, and excellent treatment. Questions were answered patiently and completely, always with a smile on everyone's face. A follow-up phone after each treatment was always provided. I am 100% satisfied with the treatment I received from Dr. Kobrinski and the attention to detail from his staff."
Several factors make VTC Paramus the most reputable vein clinic in New Jersey. For starters, our vein center is located at 140 NJ-17 Suite #103, Paramus, highly accessible to patients from across New Jersey, including Hackensack. In fact, Hackensack is less than 5 minutes away via Central Ave and NJ-17 N or 10 minutes away via Summit Ave and Spring Valley Ave. As such, patients from Hackensack and other neighboring towns can easily drive (or even walk) over to our vein center without interrupting their daily activities. Of course, a great location isn't all we offer, but it's certainly important.
Vein Treatment Clinic Paramus is a state-of-the-art medical center equipped with the latest vein treatment technologies, such as ClariVein, ClosureFAST, and VNUS. We stay ahead of the curve when it comes to vein disease diagnosis and treatment technologies to ensure you have access to the safest, most effective, and most comfortable treatments. While several vein clinics still provide outdated vascular surgeries, we only provide minimally invasive vein treatments after carefully diagnosing the underlying root cause of your varicose veins and spider veins. And that's how we maintain a perfect track record, as evidenced by our 5-star ratings and reviews.
Please continue reading to learn more about our amazing vein doctors and personalized care plan.
Dr. Todd Kobrinski: The Best Vascular Surgeon Near Hackensack, NJ
Vein Treatment Clinic is led by one of the most charming and talented vein doctors in New Jersey. Dr. Todd Kobrinski is a talented New Jersey vascular surgeon with specialized training in venous disease and cardiovascular disease diagnosis and treatments. He has an exceptional training background, having acquired his Bachelor's and Master's degrees from The George Washington University, following which he pursued an eight-year-long post-graduate training through the Icahn School of Medicine at Mount Sinai St. Luke's Roosevelt Hospital Center in New York City.
Dr. Kobrinski certainly has an impressive background, certification, and track record, but those are only some of his many amazing qualities. Patients love consulting with Dr. Kobrinski because he is — above all else — a kind, compassionate, and patient individual. He truly cares about his patients' well-being, giving them ample time to discuss their concerns and goals. He listens to all your concerns, guides you through the vein treatment process, and curates personalized care plans that address your unique needs. As such, patients often say that their vein treatment experience has been physically and emotionally comfortable.
Our Personalized Care for Varicose Veins & Spider Veins
Most vein centers follow a cookie-cutter treatment plan — they take a brief look at your spider veins or varicose veins and recommend a treatment. Others recommend outdated vascular surgeries, even though they're riskier and less effective than minimally invasive vein treatments. However, VTC Paramus maintains a perfect track record because of a streamlined, straightforward, and personalized care process that addresses your unique needs.
Step 1: Diagnose the underlying venous insufficiency.
During your initial consultation, our vein doctors examine your varicose veins and spider veins to determine if you have underlying venous insufficiency. We use Duplex Ultrasound, one of the most advanced vascular imaging techniques, to visualize the blood flow in your leg veins and diagnose venous insufficiency.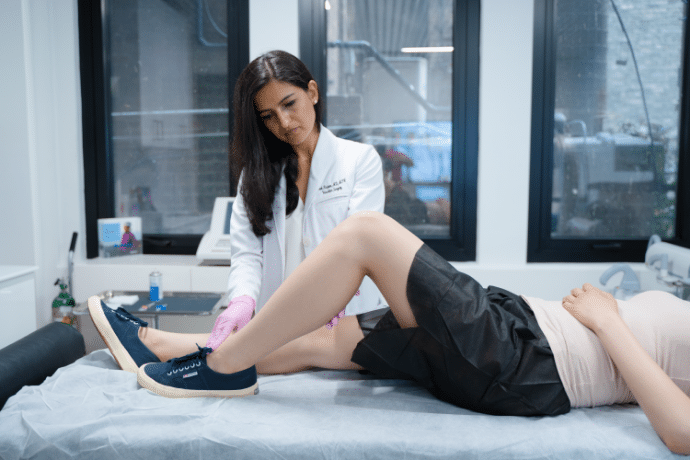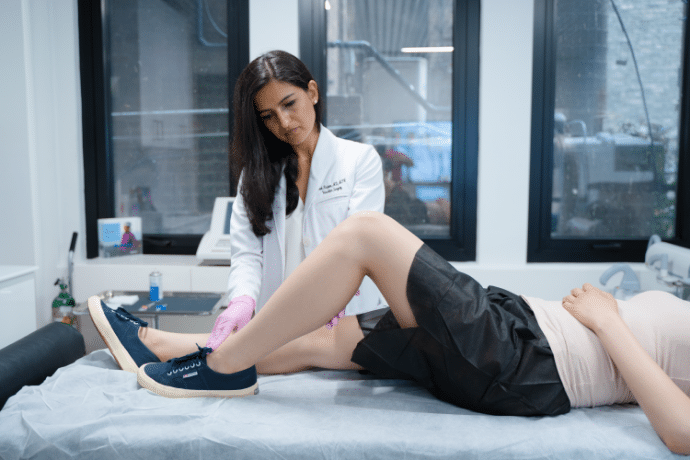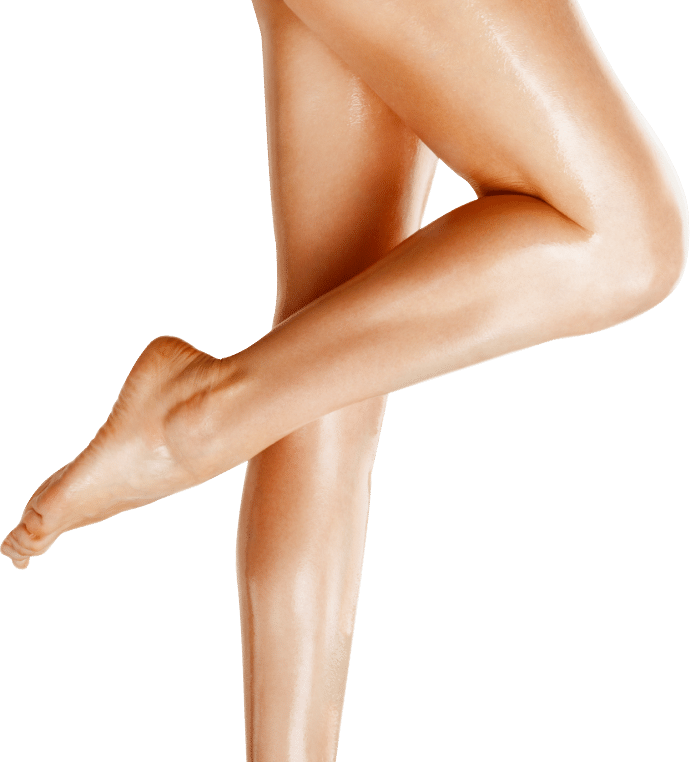 BOOK AN APPOINTMENT
Do you have any symptoms? Consult now with one of the Best Vein Specialist in New Jersey
Your information is encrypted and secure. By registering you confirm that you accept Terms and Conditions and Privacy Policy
Step 2: Curate a minimally invasive treatment plan.
We discuss all your minimally invasive treatment options for varicose veins and spider veins, highlighting their pros, cons, costs, and insurance coverage options. We also recommend the ideal personalized care plan based on your cosmetic goals, diagnosis results, insurance coverage, and overall expectations.
Step 3: Treat venous insufficiency.
If you have underlying venous insufficiency, i.e., malfunctioning leg veins that lead to superficial varicose veins and spider veins, we recommend radiofrequency ablation, endovenous laser ablation, or VenaSeal. These minimally invasive procedures use thermal energy, laser energy, or medical adhesives to remove the diseased saphenous vein causing your varicose veins and spider veins. As such, we treat venous insufficiency to prevent further vein problems.
Step 4: Remove the superficial varicose veins and spider veins.
After treating venous insufficiency, or if you don't have venous insufficiency at all, we use sclerotherapy to remove the superficial varicose veins and spider veins from your skin's surface. The vein doctor injects a special medication into your spider veins to fuse their vein walls, turning them into hardened scar tissues. Over time, the spider veins get absorbed by the body and fade away.
FEATURED POSTS BY VEIN DOCTORS
NJ Vein Doctors

Meet our team of New Jersey Vein Treatment Specialists
Vein Treatments are covered by most major medical insurances, including Medicare. Call us today to verify your insurance for FREE >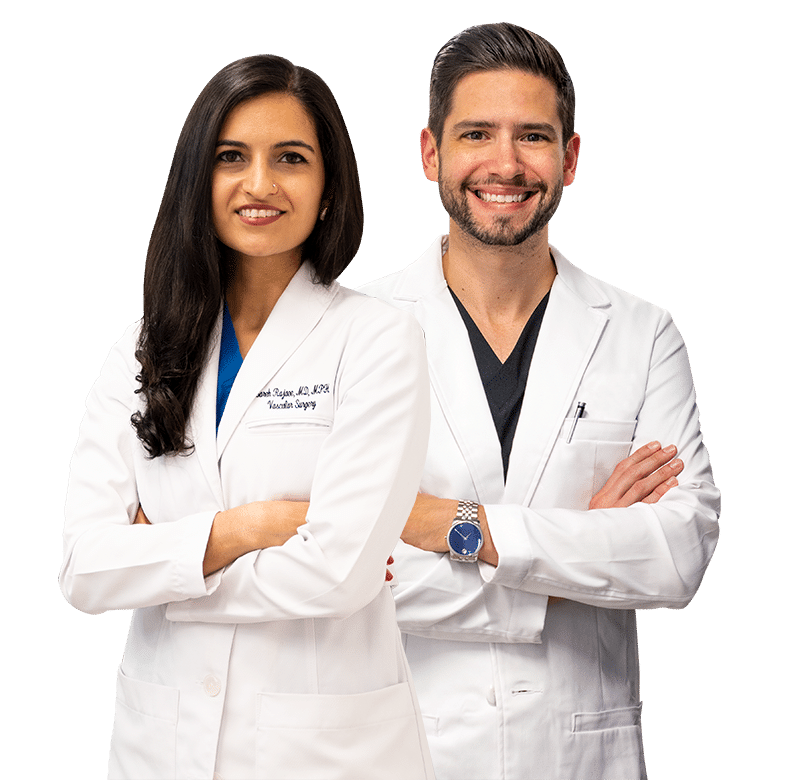 Meet our Team of Top Vein Specialists in New Jersey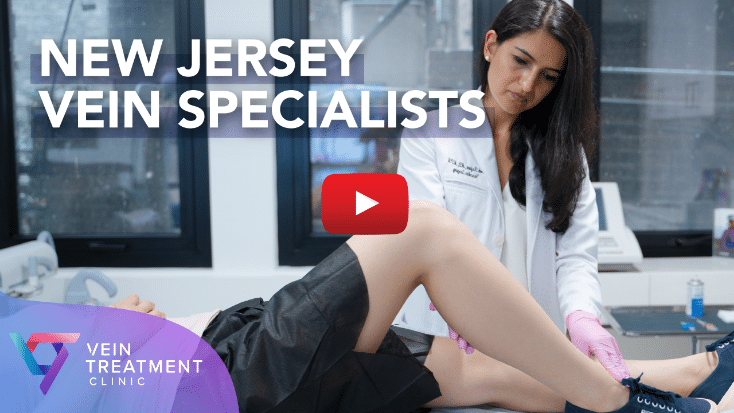 Slide One