What Can Go Wrong With Sclerotherapy? Top Spider Vein Treatment FAQs

What can go wrong with sclerotherapy?
Sclerotherapy is widely considered the best minimally invasive treatment for spider veins and small varicose veins. Sclerotherapy is a minimally invasive treatment that involves injecting a sclerosant medicine into spider veins to irritate their vein walls, turning them into hardened scar tissues eventually metabolized by the body. The sclerotherapy procedure only involves a few simple injections on targeted veins — no incisions or hospitalization. The spider veins will initially harden and darken on the skin's surface, but they'll fade away within three weeks.
Despite the simplicity of the sclerotherapy treatment, it's natural to wonder about the side effects and possible complications. Sclerotherapy is one of the safest minimally invasive treatments for spider veins, but all treatments carry some side effects. The most common side effects of sclerotherapy are mild redness, swelling, discomfort, itching, irritation, and bruising around the treatment sites — these side effects are common for all injectable treatments. Most people experience these side effects, and they usually dissipate within a few days.
But if sclerotherapy isn't performed properly, you may also experience some complications, such as hyperpigmentation, brownish discoloration on the skin, capillary dilation, localized hives, inflammation, air bubble, allergic reactions, and blood clots in the vein (deep vein thrombosis). Most of these complications are extremely rare, and they only occur when you seek treatment from inexperienced vein doctors or don't follow the doctors' post-treatment aftercare guidelines. With proper care, you won't experience any of the harsh side effects or complications of sclerotherapy.
Our medical centers for vein treatment in New Jersey specialize in the latest and safest techniques for spider vein treatment. Our board-certified vein doctors use ultrasound tests to visualize the root cause of your vein problems, following which they curate a personalized treatment plan just for you. We also use the safest sclerosant medications to ensure optimal comfort during and after your sclerotherapy treatments. If you have spider veins, varicose veins, or other signs and symptoms of vein disease, please schedule an appointment to explore your sclerotherapy treatment.
Can veins get worse after sclerotherapy?
Some patients complain that their spider veins get worse after sclerotherapy. When a sclerosant medicine is injected into spider veins, it essentially turns the spider veins into hardened scar tissues that may be highly visible underneath the skin. As such, your spider veins will seem to look darker and worse after sclerotherapy. But your body will gradually metabolize the scar tissues, and the spider veins will fade away from the skin's surface within three weeks. As such, the spider veins darken before fading away completely.
Can you get nerve damage from sclerotherapy?
Sclerotherapy involves injecting a sclerosant medicine that irritates the vein walls into the damaged spider veins. If the sclerosant isn't aimed correctly, the patient may experience tissue necrosis or nerve injury, leading to mild numbing sensations. Nerve damage is an extremely rare complication of sclerotherapy. Our vein doctors use vascular imaging to guide the sclerosant medicine into the correct spider veins, ensuring optimal results without nerve damage.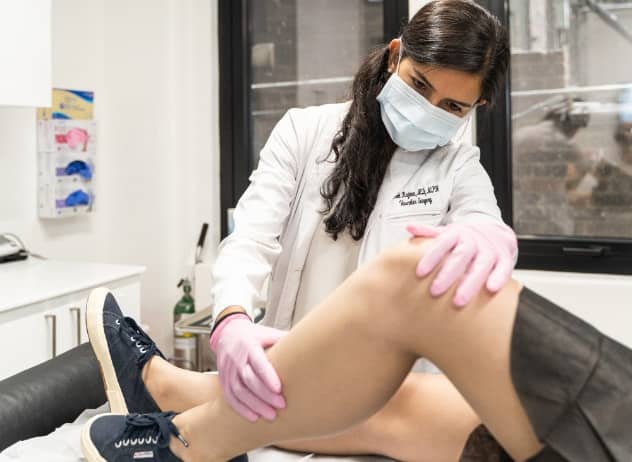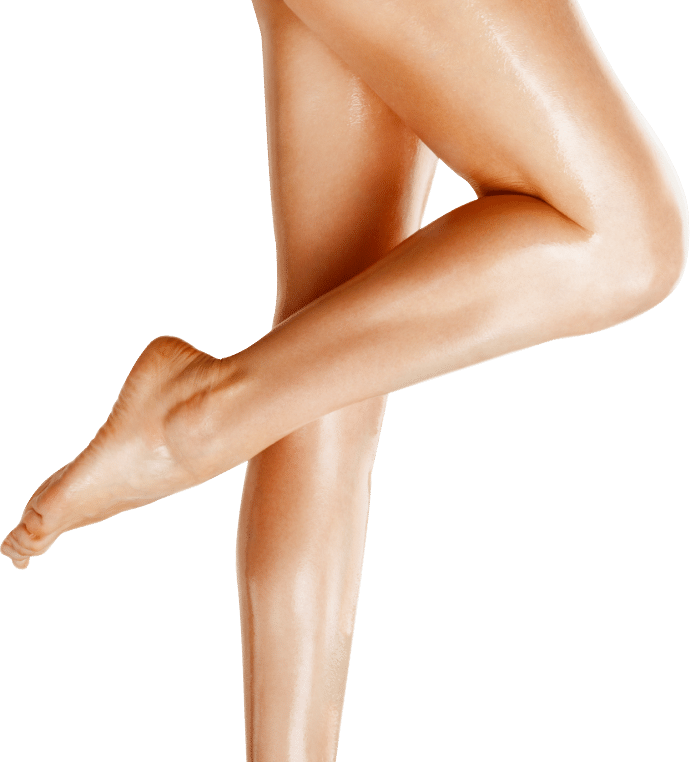 BOOK AN APPOINTMENT
Do you have any symptoms? Consult now with one of the Best Vein Specialist in New Jersey
Your information is encrypted and secure. By registering you confirm that you accept Terms and Conditions and Privacy Policy
What does trapped blood after sclerotherapy look like?
After sclerotherapy, blood might be trapped within the damaged spider vein, making the vein look dark and prominent under the skin. That's why the spider veins seem to darken and worsen in the first couple of weeks after sclerotherapy. You might also notice raised red areas on your skin's surface, similar to insect bites. However, the spider veins and raised red spots will gradually fade away.
What happens if I don't wear compression stockings after sclerotherapy?
Compression stockings are essential components of your sclerotherapy aftercare. You must wear compression stockings to prevent blood from accumulating in the leg veins and to promote optimal recovery. If you don't wear compression stockings, you have a higher risk of skin discoloration, hyperpigmentation, swelling, and other harsh side effects of sclerotherapy. You must wear compression stockings according to the vein doctor's instructions to ensure optimal recovery and results after your sclerotherapy.
Can sclerotherapy cause tissue necrosis?
Tissue necrosis is the death of body tissues, usually because of too little blood flow to the tissues. Sclerotherapy is supposed to destroy the unhealthy spider veins, but in extremely rare cases, it can also lead to mild tissue necrosis. The risk of tissue necrosis is negligible — less than 0.2%. Furthermore, our vein doctors use vascular imaging to ensure optimal precision and prevent tissue necrosis.
Do spider veins go away after sclerotherapy?
Sclerotherapy irritates the walls of spider veins, turning them into hardened scar tissues that gradually shrink, get absorbed by the body, and fade away from the skin's surface. Spider veins fade away over three weeks. However, sclerotherapy should only be performed after diagnosing and treating the root cause of spider veins — chronic venous insufficiency. If the vein doctor treats spider veins without addressing the root cause, the spider veins might return later.
How many times can you get sclerotherapy?
Sclerotherapy involves injecting sclerosant medicines into unhealthy spider veins — one injection per spider vein. The total number of injections will depend on the number of spider veins in your body. If you have a high number of spider veins, the vein doctor will split the entire treatment between multiple sessions to ensure comfort. As such, the total number of sessions depends on your unique condition. Most patients can remove all the spider veins within 2 sessions, but you may even need as many as 4 sessions.
What should I avoid after sclerotherapy?
Avoid ibuprofen, aspirin, and other non-steroidal anti-inflammatory drugs (NSAIDs).
Avoid hot baths, saunas, steam rooms, whirlpools, and swimming pools.
Avoid extremely hot water or abrasive soaps while washing the injection sites.
Avoid hot compresses on the treatment sites.
Avoid direct sunlight for a few days.
Avoid sitting or standing still for long periods — take short walking breaks in between.
Avoid strenuous physical workouts and heavy lifting for a few days.
Our board-certified vein doctors will provide a comprehensive set of aftercare guidelines to ensure optimal results and results from your sclerotherapy. You must follow the guidelines accurately. Please schedule an appointment to explore your sclerotherapy options in New Jersey.
FEATURED POSTS BY VEIN DOCTORS
NJ Vein Doctors

Meet our team of New Jersey Vein Treatment Specialists
Vein Treatments are covered by most major medical insurances, including Medicare. Call us today to verify your insurance for FREE >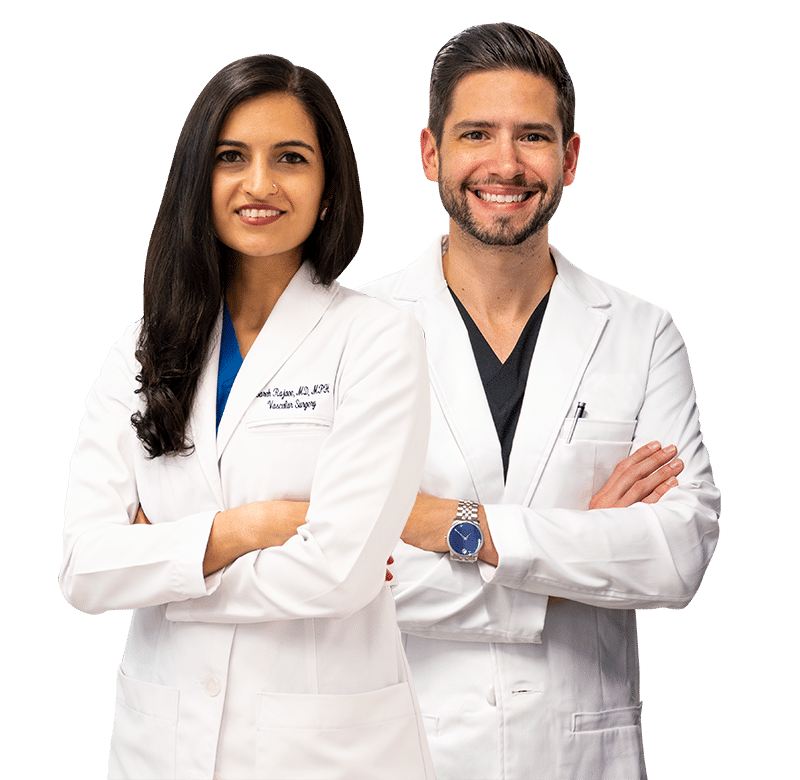 Meet our Team of Top Vein Specialists in New Jersey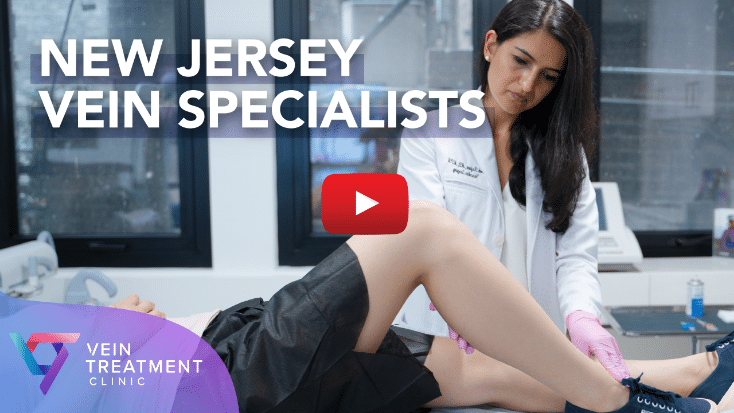 Slide One