Vein centers are responsible for the diagnosis and treatment of abnormal veins and diseased veins, such as spider veins, varicose veins, and chronic venous insufficiency. When looking for vein centers in New Jersey, you should focus on state-of-the-art vein centers that follow a comprehensive vein care process with minimally invasive vein treatments. We can't speak for all vein centers, but we highlight everything we do at our vein treatment centers in New Jersey.
Provide thorough consultations
We provide thorough consultations to all potential patients. When you come over for a consultation, you'll have to fill out a form with your medical history and symptoms. The vein doctor will examine your leg veins, discuss your symptoms, and review your medical history to understand your concerns and situation. They will also ask if you're experiencing any of the symptoms of vein disease, such as leg heaviness, frequent leg cramps, restless legs syndrome, and leg swelling. Once they have a comprehensive understanding of your goals and requirements, they'll be better equipped to recommend vein treatments. 
Provide free insurance verification
Our vein treatment centers in New Jersey provide free insurance verification for all patients. You can request free insurance verification and send your insurance details to us before even scheduling an appointment. Our insurance concierge will work out all of the terms and conditions to prepare your insurance coverage options in advance. As such, when you come over for your appointment, we can immediately provide a comprehensive overview of your vein treatment costs, with and without insurance coverage. This is also a part of our "no surprise billing" policy.
Curate personalized treatment plans
We only curate personalized vein treatment plans instead of following a cookie-cutter treatment plan. Everyone has unique requirements, so we believe your vein treatments should also be unique to you. Our vein doctors curate vein treatment plans according to your symptoms, the location and size of your abnormal veins, your diagnostic results, cosmetic goals, insurance coverage options, and other factors. This allows us to provide treatments that ensure optimal and safe results without harsh complications. 
Focus on minimally invasive vein treatments
Our vein treatment centers in New Jersey only provide minimally invasive vein treatments. In the past, varicose veins and venous insufficiency could only be treated with complex surgical procedures, such as vein ligation and vein stopping. However, vascular surgeries have a high risk of complications and a relatively lower success rate, and they also involve downtime. We only provide minimally invasive vein treatments because they're in-office procedures with a nearly perfect success rate and a negligible risk of complications. Furthermore, they conclude within an hour with no downtime.
Treat chronic venous insufficiency
We always treat chronic venous insufficiency before addressing your spider veins and varicose veins. Chronic venous insufficiency is the root cause of most vein problems. It's a circulatory disorder wherein the collapse of your vein valves leads to backward blood flow and the accumulation of blood in leg veins, which, in turn, leads to spider veins and varicose veins. As such, treating varicose veins and spider veins without addressing vein disease is like painting over a stained wall instead of fixing the leaky pipes underneath. We minimize the risk of recurrence by treating vein disease first.
Remove superficial varicose veins and spider veins
We use the latest cosmetic procedures to remove varicose veins and spider veins only if you don't have chronic venous insufficiency. Ambulatory phlebectomy is one of the best treatments for varicose veins. During ambulatory phlebectomy, the vein doctor makes small incisions on the skin's surface to extract the superficial varicose veins. And we provide sclerotherapy for spider veins. During sclerotherapy, the vein doctor injects a medicine called sclerosant into spider veins to make their walls seal shut, turning them into hardened scar tissues eventually absorbed by the body.
Provide aftercare guidelines
After your minimally invasive spider vein and varicose vein treatments, we provide your aftercare guidelines. The vein doctor will ask you to wear compression stockings for a few weeks, and you'll be asked to avoid heavy lifting. Besides these precautions, you can resume your daily activities and work immediately — there's no downtime.
A follow-up to ensure optimal recovery
Our vein doctors always follow up after your vein treatments to ensure you have a safe and smooth recovery. They might contact you via phone calls or text to ensure you don't have any harsh side effects or complications. In some cases, you may have to return for follow-up appointments or multiple sessions.
Is sclerotherapy considered surgery?
No, sclerotherapy is a non-surgical and minimally invasive spider vein treatment. During sclerotherapy, the vein doctor injects a sclerosant solution into the spider veins to seal their walls shut, turning them into hardened scar tissues eventually absorbed by the body. You need one injection per spider vein. After the procedure, you can resume all of your daily activities.
How bad does sclerotherapy hurt?
You may experience mild cramping and burning sensations when the sclerosant solution enters your spider veins, but these sensations are temporary. Most patients find the treatment perfectly tolerable. You may experience mild post-treatment swelling and discomfort for a few hours, but you can resume your daily activities immediately.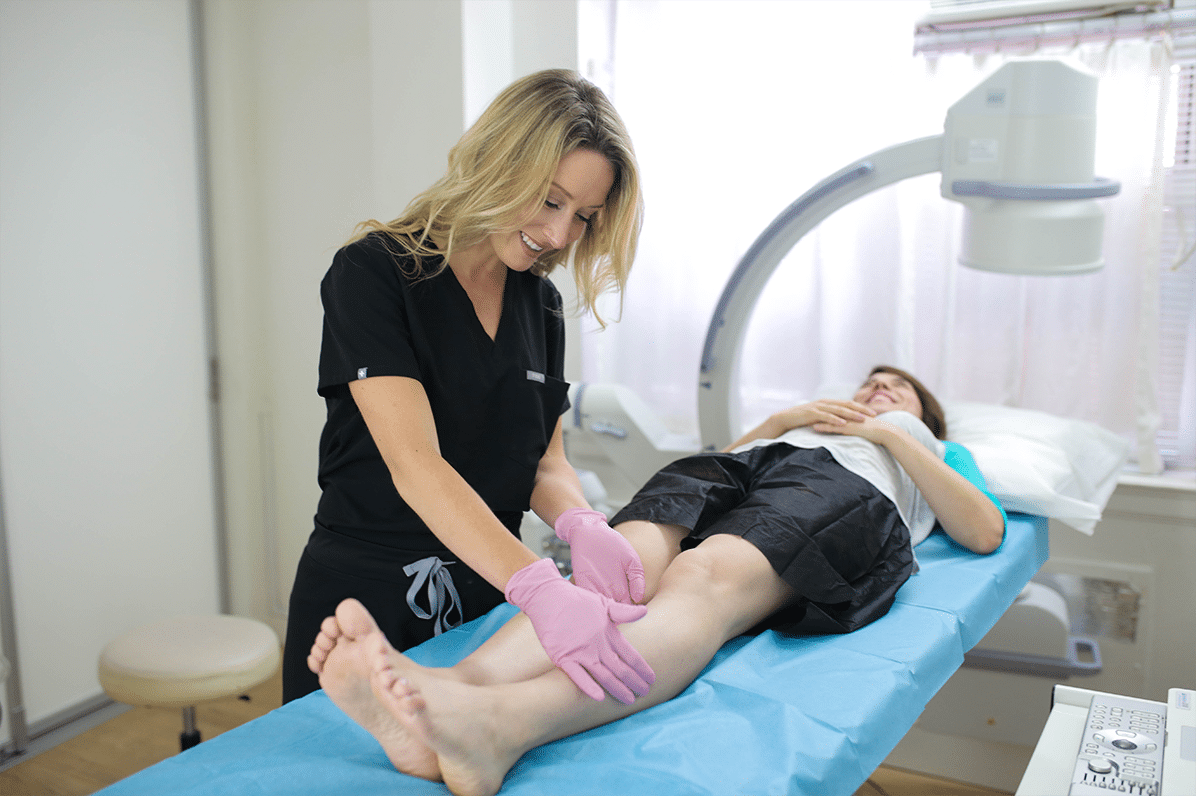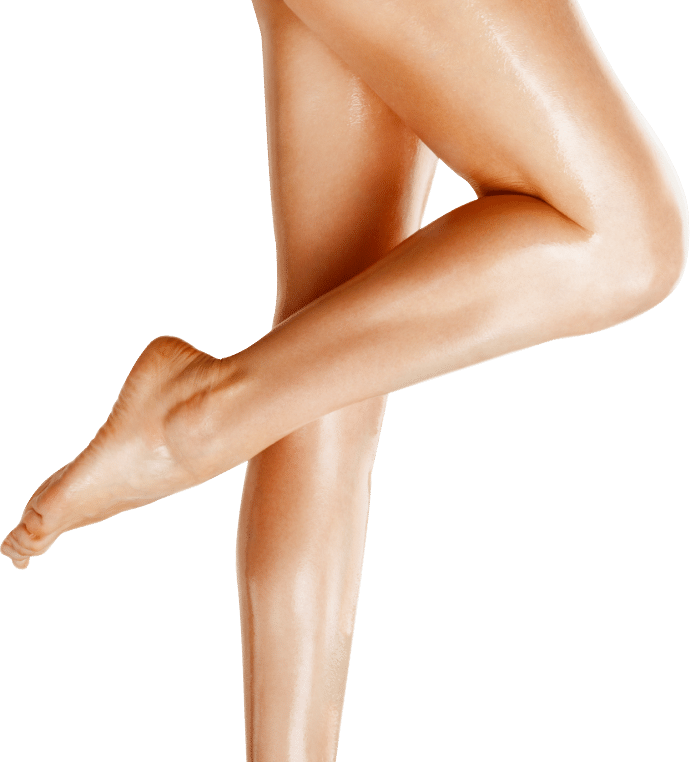 BOOK AN APPOINTMENT
Do you have any symptoms? Consult now with one of the Best Vein Specialist in New Jersey
Your information is encrypted and secure. By registering you confirm that you accept Terms and Conditions and Privacy Policy
What is the fastest way to recover from sclerotherapy?
The fastest way to start recovering from sclerotherapy is to start walking immediately after the procedure. You should walk frequently and wear compression stockings for several days. This will facilitate optimal blood circulation and speed up the recovery process.
Does sclerotherapy work immediately?
Sclerotherapy doesn't show immediate results. In fact, your spider veins may seem to worsen after a few days because the sclerosant solution will turn them into hardened scar tissues. However, your body will eventually absorb the scar tissues, and they'll fade away from your skin. You should see optimal results in 2 to 3 weeks, and you may even need multiple sessions.
FEATURED POSTS BY VEIN DOCTORS
NJ Vein Doctors

Meet our team of New Jersey Vein Treatment Specialists
Vein Treatments are covered by most major medical insurances, including Medicare. Call us today to verify your insurance for FREE >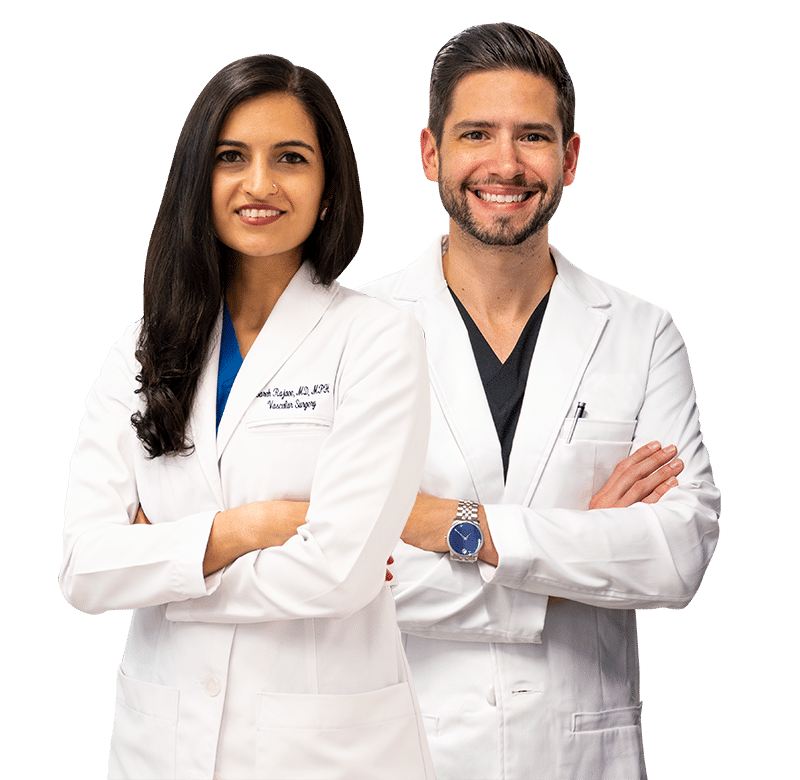 Meet our Team of Top Vein Specialists in New Jersey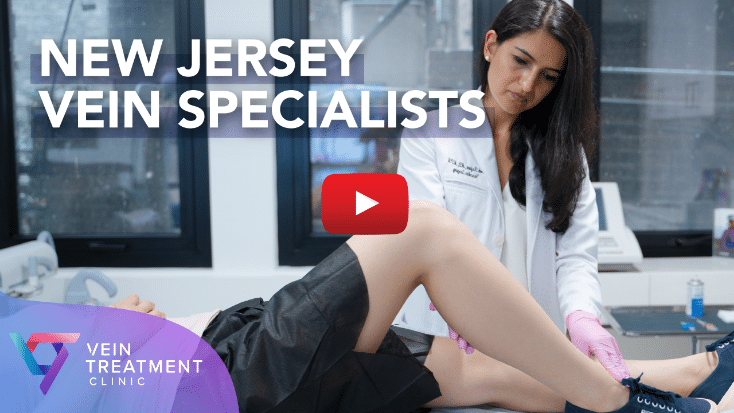 Slide One